Dioxide HeadLight Restoration (OEM UV treatment)
Restore headlights back to their original condition.......
Top 5 most challenging headlight refurbishment !

Posted by DrGlass - S Pte Ltd on Tuesday, July 21, 2015
Headlight restoration...there's no single other thing you could do that would have a bigger impact on the APPEARANCE and SAFETY of your vehicle. DrGlass offers a unique repair process that uses our in house chemist developed OEM high quality UV vaporizer that make the restoration last long. Real long…..
At DrGlass, we provide professional headlight restoration so that you can have new car headlights again! This is much more science involved more than a simple headlight polishing; it's a COMPLETE and lasting headlight restoration that we promise you will only need once!
Curing under specified UV light to promote longivity

Over a period of time the sun's harmful UV rays, halogen/HID bulb heat, weather, and road debris will degrade the look and function of your headlight lenses. These forces can result in headlights that look ugly in appearance while losing its most important function; the ability to illuminate. We have the system that restores headlights to nearly 100% original factory like condition at a fraction of the replacement cost. Our headlight restoration saves you up to 93% off the cost of replacement headlights which can range anywhere from $300 to $4000 per piece. Don't believe? Call up the spare part shop today.
APPEARANCE
Our company patented system completely mechanically resurfaces the lenses; stripping them of all oxidation, and vaporize them with our UV vaporizer (OEM Standard) that has them with extremely protective and long lasting and finally using UVA light to chemically cures them. Our UV vaporizer (OEM Standard) was created by our in house chemist unlike those DIY kit which will fails you in a couple of months. And we are able to restore them to their original factory like condition for years to come. We have tested it in the most extremely climate etc Tuas, Shipyard and it can last around 5 years.
*if your lights has been restored by polishing and non-oem coating, it will be fine in the first few months but slowly micro cracks which we call lens crazing will appeared. And that will almost destroy your whole lights.
Headlights traveling back in time!
SAFETY
Restoring your headlights to their original clarity not only improves your vehicle's appearance, but more importantly provides safety to the driver and passengers as the ability to project light properly. The oxidized plastic refracts and disperses the light that is passing through the lens cover, reducing the amount of light illuminating the road by as much as 85%! Our professional restoration lets all of the light through, allowing your headlights to work the way they were originally made to or used to….
How much is the safety of you and your family worth?
󾭣25/04/2015󾭣(something special) A few shop had told him "it's useless and change it". So he decided to engage us after his friend introduce us to him. He wasn't confident of us because so many people had told him to change them but after he saw our work............

Posted by DrGlass - S Pte Ltd on Saturday, April 25, 2015
Side by side overhead comparison of light projection before and after our typical restoration.
* Depending on the severity of the initial lens oxidation.
Professional stripping apart and projector bulb restoration
Dechroming in progress to restore the lost chrome
Clouded lenses not only greatly further reduce visibility for the driver, but also create a glare that is distracting and dangerous to other drivers as well. Driving with cloudy, oxidized headlights increases your chance of being in a nighttime driving accident with oncoming traffic by 35%!! Why help the odds even more?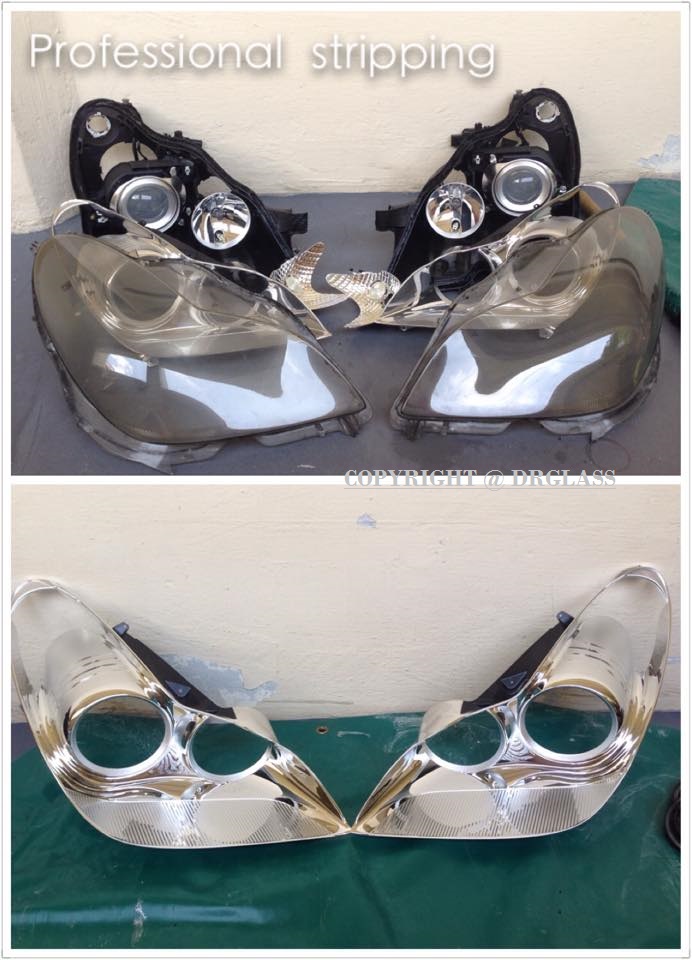 Presenting you some of our award winning headlight modding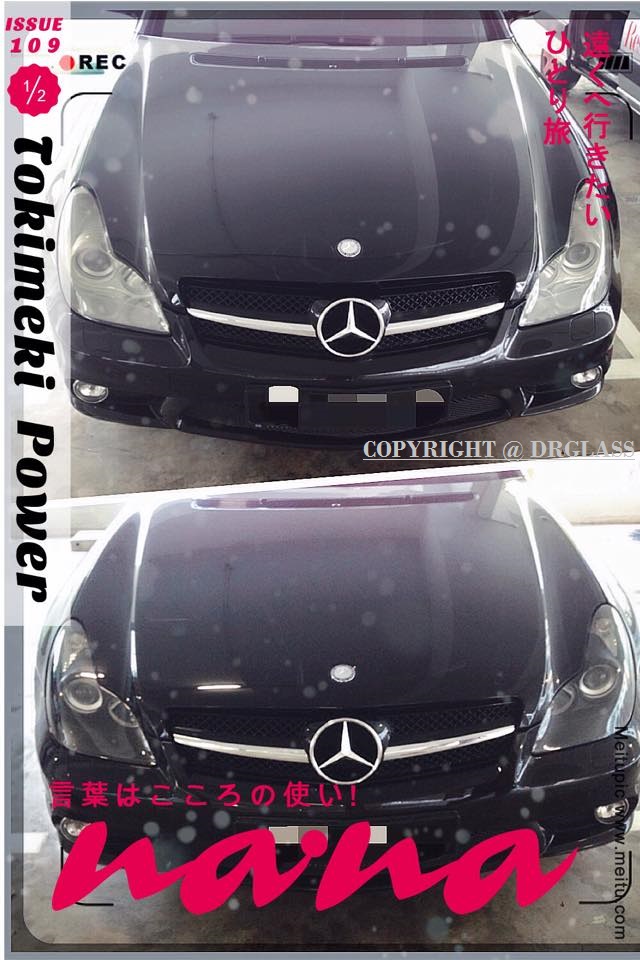 According to the our past workman
Oxidized headlights can be found on 7 out of every 10 cars over 3 years old on the road.
Most drivers are likely driving with oxidized headlights that greatly need to be replaced.
Poor driving visibility is the leading cause of nighttime traffic accidents.
Standard headlights show objects 150 feet ahead
Discolored, hazy headlights reduce a driver's night vision by 50% (75 feet). Oxidized, foggy headlights can decrease light projection by 75% (37.5 feet) of visibility exposing the driver to an even higher risk of being involved in a nighttime driving accident.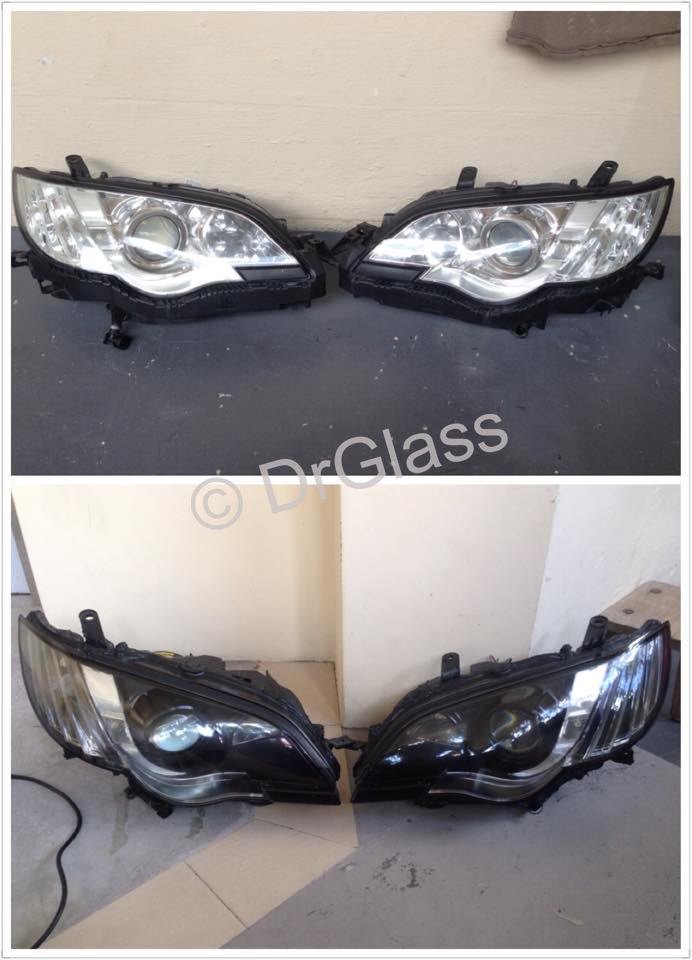 After so much infos, question is what can we restore? Anything of the below except cracked headlight!
Dull yellowish looking headlights (external)
Stone pitted headlights (external)
Scratched headlights (external)
Sprayed tinted headlights (external)
Lacquer cracking headlights (external)
Headlight internal restoration (stripping apart)
Internal HID hazing (Merc, BMW e60, e90, JDM etc) (stripping apart)
Internal chrome dull restoration (stripping apart)
Internal projector bulb restoration (stripping apart)
Customize Spraying of headlight base/reflector (stripping apart)
Rewiring work
Headlight Retrofit Services (internal DRL)
IMPORTANT! How much?

- Starting from $80/pc *japan/asian make car
* 1-2 years warranty avail !
*DrGlass is the nation's leading head light beautification company. Dr Glass' patented head light restoration formula is the only system that guarantees to restore any failed head light to almost 100 percent new, regardless of its current condition or whether it's a result of a botched restoration. Dr Glass is so confident and knows that its system works that it offers the industry's only written warranty. If DrGlass' headlight restoration fails, customers will get a new restoration service or the full amount refunded.