Windscreen crack repair – Starting from $45
Save Time !

Save Solar Film !

Save your original non leakage factory sealed windscreen !

The windshield repair industry has existed for more than 20 over years, since the original development of the vacuum pressure techniques developed in 70s.
Typically, windscreen are called Laminated Glass.
| | |
| --- | --- |
| | They are equipped with 3 layers of material. This helps to uphold its strength and maintain its durability. Usually the damaged area are the area in the center which is called the polyvinyl butyral. Windscreen repair uses a special resin which resemble a near similiar textile which is of similiar to Laminated Glasses. |



Advantages of windscreen repair
Significantly reduce the visibility of the original damage.
Improve the optical clarity within the damaged area up to 80%
Reduce light scatter and haze within the damaged area.
Restore the structural integrity and strength of the glass, thereby preventing further spread of the damage.
Restore a smooth surface to the damaged area to avoid interference with proper operation of windshield wipers.
Save the consumer money.
Save time for the consumer.
New replacement will destroy the original seal of the windscreen, thus may result in water slipping and unnecessary complications
Save our environment by decreasing waste, preserving valuable landfill space, and reducing pollution from new glass fabrication.
To this date, with the millions of repairs performed around the UK region, there has not been a single accident injury which was attributable to the repaired windshield damage. In Singapore, this service is not known to most car owners because of the. Thus majority of car owners who doesn't know about this service tend to ignore the small crack which will turn into an un-repairable job and incur unnecessary cost for the replacement and even safety is concerned.
This small sum that you spent could actually save you from hundreds of dollars and most importantly safety purposes.
If your windscreen damages falls under these category, it would be dimed as unrepairable for safety issues.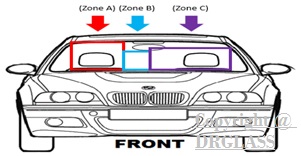 1) Zone A (More than 1 cm)
2) Zone B (More than 1.5cm)
3) Zone C (More than 2.5cm)
4) If we finds out the location and severity of the damage is of obstructing your vision, we will suggest you to replace it for safely issue.
The followings are some of the repairable damages.
Most Common Cracks :
| | | | |
| --- | --- | --- | --- |
| Bulls Eye | | Star | |
| Halfmoon | | Combination | |
| Short Cracks | | | |

How easy to contact us for a quote

1) Snap a picture of the crack

2) Whatsapp to us at 8932 9059

3) We will reply to your enquiry at lighting FAST speed !

BEFORE

AFTER